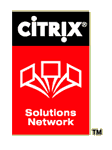 Citrix solutions. The power to deliver a virtual workplace today. Today, organizations around the globe are using proven Citrix solutions to overcome the challenges of delivering the virtual workplace. Citrix application and portal server solutions enable organizations to leverage the Internet and deliver mission-critical applications.
The flexibility to extend the virtual workplace even further. To keep Citrix customers on the leading edge, Citrix has segmented product updates into Feature Releases and Platform Releases. This separation of Feature Releases, which consist of customer-focused upgrades and enhancements, and Platform Releases, which entail more significant architectural changes, enables Citrix to more quickly respond to enterprise market requirements and also allows an organization to integrate new functionality more quickly.
The manageability and scale for any device, any connection. Built on the most advanced technologies in the industry, our approach provides the only solution of its kind offering secure, Internet-based access to Windows®, UNIX® and Java™ applications from virtually any device, via any connection.